It can, in a limited sense, be said that any stick like object which burns, emitting smoke but without emitting a no-mal-odoriferous smell is an Incense stick / Agarbathi.



However, we can try to a very limited extent to define incense stick / agarbatti as an item manufactured from forest based raw materials consisting of powdered wood, charcoal, odoriferous roots, barks, seeds, leaves, flowers etc. with some essential oil, mineral oil, resinoids and aromatic chemicals, the paste of which applied to emit non-mal-odoriferous pleasing fragrance or where the perfumes are added to the paste before rolling to emit the fragrance as mentioned earlier, while burning on the coated portion of the stick.

It may even be said that only an expert perfumer, a connoisseur of fragrances, like for example, a wine taster, can really differentiate as to what is a good incense stick / agarbathi and what is not.



The usage of incense sticks / agarbattis has been a part and parcel and in fact is woven in the fabric of Indian culture from time immemorial equally important or more important, incense sticks / agarbathies has always been used on every and all occasions be it religious or an occasion for joy or sorrow.

In vedic times, incense sticks / agarbathis were not only meant to symbolize an occasion or an important event were also used to lend fragrance to the air we breathe as well as to induce a state of mind conducive for the physical and mental well being of the person inhaling the fragrance emitted by the incense sticks / agarbathis.
Scientific Base: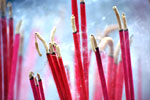 Since volatile oils which form an essential part of the raw materials used in the manufacture of incense sticks / agarbathis are known to destroy airborne bacteria when used in a congregation. The de-odorised atmosphere and the pleasing smell soothes the nerve and renders the atmosphere congenial for concentration, meditation and prayers. Ayurvedya prescribes the use of incense in sick rooms, mainly due to its anti-septic nature which enables it to purify air as well as because of the curative properties, the smell and smoke emitted by the incense sticks / agarbattis imparts well being when inhaled by a sick person.
Incense Sticks / Agarbathies - A Luxury:
In olden days incense sticks / agarbathies were mainly used on special occasions like poojas/prayers since they were beyond the reach of a common man .
Historical Profile - Recent Past:
There was a suppressed demand for incense sticks / agarbattis, even from the common man and to widen its area of usage, dhoops, in the form of sticks or cones were developed. They are handy and dry and could be lit or used whenever required. However, India being a vast country, communication was found to be a main bottleneck for transporting this commodity from the manufacturing centre to the consuming public. In the olden days, incense sticks / agarbathies was mainly a localised industry., patronized by Maharajas, ruling classes and the well to do.
Development and Growth of the Incense Sticks / Agarbathis Industry:


The availability of incense sticks / agarbattis in the present form, to a large extent, has to be ascribed to the enterprising nature of the muslim community, mainly form the south India. It was they, who started making use of bamboo stick as the core, and a gummy wood powder as the binding medium to apply the mass to these sticks by hand-rolling process. They had an intimate knowledge of perfumery materials like Civat, Musk, Saffron, Barneol, Cloves, Cassia, Agarwood, Sandalwood, Gum, Benzoine, Halmaddi Etc., dry flowers and roots like Rose and Vettivert, leaves like Davana, Patchouli etc. besides attars of Rose, Sandal, Khus and Hina which they used to produce excellent incense sticks / agarbathies of reputed qualities.

One factor which has remained constant where this industry is concerned has been the fact that each individual manufactures considered his product to be unique and different. Each incense stick / agarbathi has always been hand-rolled by the individual without in anyway using any mechanical device in its manufacture.
Incense sticks / Agarbattis - An Handicraft Industry:
Recognizing the unique nature of the units engaged in the manufacture of this product and acknowledging that incense sticks / agarbathies is a specialty product, the Ministry of Commerce, Government of India, accorded the status of "Handicraft Industry - Hand made typically Indian" to this industry in 1983.